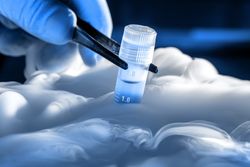 THINKING ABOUT MOVING YOUR CELLS FOR IVF TO ANOTHER INSTITUTION LEADS TO AN IMPORTANT QUESTION.
IS IT REALLY SAFE TO SHIP CRYOPRESERVED CELLS?
---
Many couples undergoing IVF treatment wish to ship their cells from one clinic to another either to try treatment in different institution, seek the treatment option not available in their country or just need their embryos move because of relocating. And those couples understandably ask if cryoshipping is for the cells really safe.
Clinics success rates show it is. There is no apparent difference in successful pregnancy rates between IVF cycles with embryos used "in house" or with those who "travelled" for the treatment from its origin destination elsewhere.
The only necessity to secure the safety of your precious cargo is to choose skilled courier who specializes in cryoshipping.
Travelling cryopreserved by vitrification
Vitrification is a modern method to cryopreserve embryos, eggs and sperm. For long term storage, cryopreserved cells are kept in cryo-storage tanks filled with liquid nitrogen. The temperature of liquid nitrogen is -196 Celsius.
At that very low temperature all biological processes of cells are suspended, and sperm, oocytes and embryos can be kept for years or decades, and still be used. What is critical during this period is keeping the cryocontainer's inner temperature stable constantly and to prevent any unwanted disturbances or damages to container. And the same applies for cryoshipping. Vitrificated cells are stored in container for shipping - specially designed for transportation.
Do all the clinics accept embryos from other clinics?
This is actually something that indicate how professional your clinics are (both, original and new one), top clinics include cryoshipping procedure into their processes and are experienced with sending or receiving cryopreserved embryos.
However the main part of this process is the courier you choose to ship your cells with. Only couriers specialized in cryoshipping can guarantee safe transport, communicate with both clinics to speed up the process, arrange all necessary details, process related documentation and supervise personally container from its pick up to its delivery.
Your cryoshipping courier
In cryoshipping specialized logistic professionals such as BioCouriers, with many years/routes of experience, are exceptionally oriented in the requirements and regulations of each country transport crosses, cooperate with clinics around the world, are able to find solution to any issue that may arrise, are skilled to perfection handling the container within its maximum safety and use the latest technology to prevent any damage to your embryos or other cells.
To get back to original question, if it is safe to ship your frozen cells. Clear answer is: with skilled and carrying professional provider of cryoshipping services - YES.
How to choose fertility clinic? Learn the tips on our blog: How to choose a clinic where I can transfer my cells to?