BioCouriers provide professional cryoshipping services for IVF.
BioCouriers specialise in transport services of frozen cells around the world. Carrying your consignment safely and efficiently from origin to destination medical institutions around the globe. The same technology applied by cryobanks for long-term storage is used for cryoshipping.
Cryoshipping of embryos, eggs, sperm and other cells.
Licenced to transfer tissues and cells with liquid nitrogen temperatures at -196°C.

State-of-the-art cryogenic equipment adhere to strict quality control procedures.
Cooperation with clinics and medical institutions across continents.
We'll arrange
transport
details
We'll process
all
documents
We personally
take over
your cells
We'll prepare
a final
report
We are IVF couriers transporting embryos, eggs and sperm around the world.
Our services are complex. We transport human reproductive cells for fertility clinics and individual couples undergoing IVF treatment.
We are focused, reliable, detail oriented, efficient and above all aware of importance being a major part in couples IVF journey.
Therefore our procedures are proven not only by years of experience, but also by the team personally dedicated to the cause. We are proud our services are of high standard.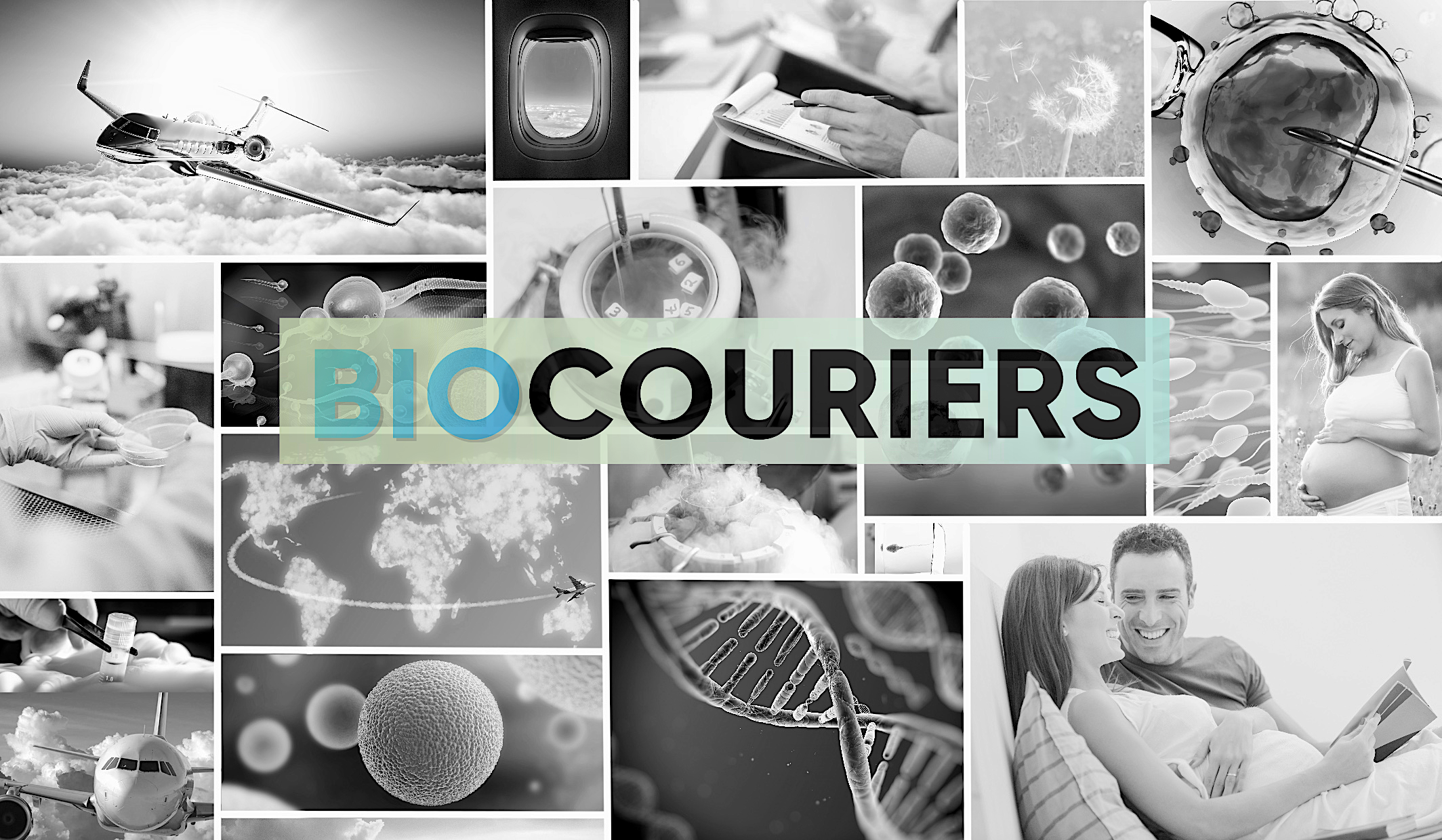 › BioCouriers plan and organize the most suitable route for consingment and schedule the shippment.
› BioCouriers cooperate with clinics and medical institutions across continents.
› The shipment is under the constant supervision of skilled courier throughout the whole transport. During airport inspections courier personally ensures the container with cells doesn't go through X-rays. Specially designed devices are used for working at liquid nitrogen temperatures. Prior to each transport detailed control procedure takes place, revising the transport container's integrity and the functionality of the temperature measuring device to ensure maximum safety.
› Shipping the cells from origin to the destination clinic takes approximately 2-3 days from picking-up the consingment and proceeding with all relevant documentation.
› Client is kept up to date on the entire transport process and continuously informed regarding the shipment's status. After successfully delivering consingment to its destination a final report is generated including a graph of the temperature measurement from the entire transport.
Attention to legislation, training & equipment control
› The IVF area is closely monitored and regulated worldwide. We strictly follow all the requirements and regulations of each country we transport across. Our company is under the jurisdiction of the European Union, namely Regulations 2004/23/EC, 2006/17/EC and 2006/86/EC, which define the requirements for good distribution practice.
› We undergo regular in-depth audit, follow latest trends in the field of cell transport and medicine and apply those into our procedures. Every member of our team undergos regular vocational training.
› Umbilical cord blood cells – this is the blood contained in the placenta and umbilical cord. Umbilical cord blood contains many stem cells and is used for transplantation between an anonymous donor and recipient, between siblings, or for transplantation to a human being taken from birth. If the parents decide that they want to preserve the umbilical cord blood, it's collected immediately after the baby's birth.
› Stem cells – these are either embryonic stem cells that are separated in the blastocyst or adult stem cells found in adult organism tissues. Stem cells can divide by creating more stem cells. They can be obtained e.g. from bone marrow, tooth roots, fat cells, etc.
› Animal reproductive cells (embryos, sperm, eggs) – the transport process is similar to that of human cells.
› Blood, cells and tissues that are not intended for further human use (e.g. blood for genetic testing, which must not be X-rayed) - here we're able to provide transportation at dry ice temperatures, room temperature or body temperature.
Our licence does not allow us and therefore we do not transport:
› human blood for transfusion
› human tissues and organs intended for transplantation
---
LET'S MAKE THE TRANSPORT HAPPEN!
For your enquiry, please use the form bellow and we'll get back to you as soon as possible.